Precinct Delegate Hijinks??
In GOP Delegate Battle Earlier this year, a
representative of Lt. Gov. Brian CALLEY's
re-election campaign showed up at a Gratiot County
Republican meeting to recruit precinct delegates. The
appearance marked another point of debate in the growing...READ MORE
Madison / Hamilton Events across Michigan
"Mobocracy: This Is What Democracy Looks Like" from FreedomProject on Vimeo.
Mark your calendars: July 16th/17th. 16th on the West side of the state, 17th on the East side. Dr. Jake Jacobs will be speaking at our Madison/Hamilton Dinners. Who is Dr. Jacobs? Watch the first few minutes of this video and you will see that he is a torch bearer for Liberty! An exciting speaker.
West Side Details: The West Side Madison/Hamilton Dinner event is now posted. We know you've been waiting for it! Wait no more - get your ticket(s) today. Tables seat 10 if you are looking to bring your family/friends. Sorry no discount on tables, the price really does just cover the cost of the dinner and a few extras. Not a FUNDraiser but a FUN and Energy raiser. Click the link below for more info:
https://www.facebook.com/events/1441429682788286/?ref_dashboard_filter=upcoming
East Side Details: It's here! Tickets on sale now! Feeling a little tired? Feet hurting from walking the neighborhoods doing lit drops? Voice rough from all that phone calling? Fingers a bit cramped from blogging, addressing envelopes, emailing, posting for and about this election and our candidates? Time to get re-energized! Time to get encouraged! Time to RALLY THE TROOPS! Great line up of speakers at a grass roots price. 12 groups joining together to make this happen. Who says the TEA Party is on life support?! Click the link below for more info:
http://www.eventbrite.com/e/se-michigan-tea-parties-madison-hamilton-dinner-in-milford-michigan-tickets-11901849753
Tea party leader Wes Nakagiri to challenge Lt. Brian Calley
Meet Conservative Republican and Grassroots Candidate for Lt. Governor Wes Nakagiri. Click on his picture or the link below to see why Republicans and Conservatives need to say YES to WES for Lt. Governor in 2014!!!
ReTakeOurGov Tea Party's Wes Nakagiri on a primary challenge to Lt. Governor, and Medicaid Expansion in Michigan
Watch Jul. 19, 2013 | #4304 on PBS. See more from Off the Record.
---
Recent Stories:
Nearly Half Of Detroit Water Customers Can't Pay Their Bill...
300,000 in Michigan enroll for Medicaid expansion...
THE MINNESOTA MISCONCEPTION...

FREEP'S HENDERSON USES MINN. AS EXAMPLE OF HIGH-TAXES WORKING FOR STATE...
8th Congressional District candidates to participate in forum Tuesday
Michigan Political Points: Is Gov. Rick Snyder 'the country's most unusual' Republican?
House Republicans slam IRS commissioner as they subpoena a White House lawyer in 'missing emails' case
---
NEW ELECTION TOOL for Liberty, Patriot, and Conservatives!!
Voter Information Network SUPERPAC
Great to see these signs in SW Michigan!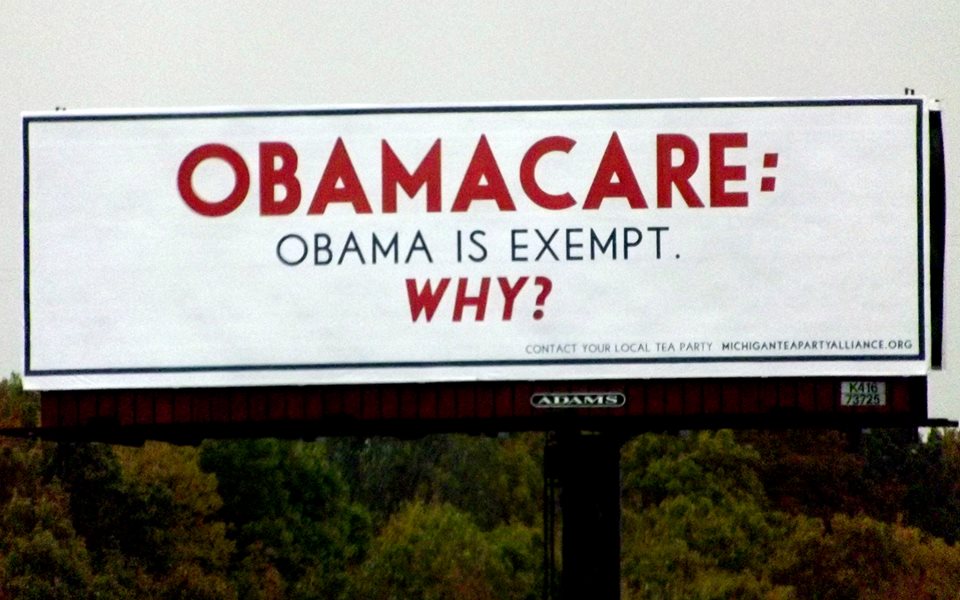 How Will Your State Fare in the Obamacare Exchanges?
Source Report: How Will You Fare in the Obamacare Exchanges?