Recent Stories:
George Will: 'All Hell Is Going To Break Loose' When Employers Dump Plans
Despite Promises, Relaunched Healthcare.gov Still Proves Dysfunctional
Though Not True, White House to Announce HealthCare.Gov Deadline Met
Tim Skubick: Dave Agema pushes for a part-time legislature
Michigan Political Points: Proposal to criminalize election lies; petition for a part-time Legislature
EDITORIAL: Tea Party tactics in LT. GOV. bid aren't 'waste of time'...
AFP's Hagerstrom: 'I think that it is a waste of time and energy...'
Great to see these signs in SW Michigan!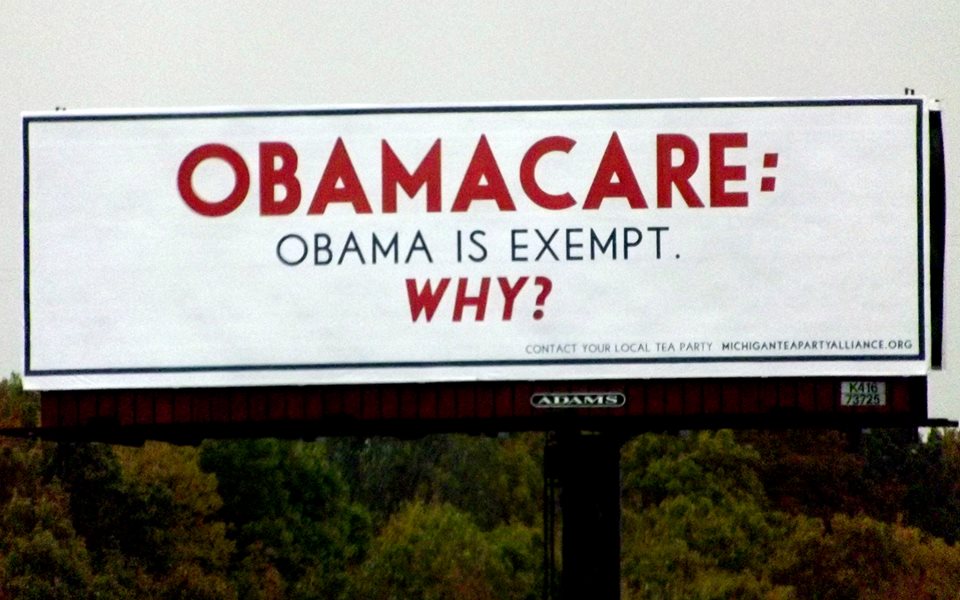 How Will Your State Fare in the Obamacare Exchanges?
Source Report: How Will You Fare in the Obamacare Exchanges?
We Tea Party organizers and leaders in the state of Michigan salute Senators Ted Cruz and Mike Lee, members of the first class of Tea Party Senators to enter Congress. They have energized Tea Party and other conservatives across the nation who were growing weary from all the hours and personal treasure that we have expended with seemingly little results. They have refreshed and re-energized us as true leaders of the conservative cause.
We need not detail all the faults of the PPACA (aka 'Obamacare') as they have been recited over and over to the media and others in Congress by many of us. We have only been partially successful in the state of Michigan in blocking the implementation here and greatly appreciate the efforts of these two Senators in Washington DC. We are cheering them on and praying for their success and the for very life of our nation. Their efforts are key to the survival of our Republic.
Again, we extend our heartfelt appreciation for their leadership and courage in standing for what is right over what is expedient. Let this also be a message of a different sort to those Republicans and the 'sunshine patriots' who are trying to stop their efforts.
Endorsed by:
1st Michigan Tea Party Alliance
Southwest Michigan Patriots
VanKal Tea Party Patriots
Rattle With Us
Cass County 912 Tea Party
Tea Party Patriots of West Oakland County
Lapeer County Tea Party Patriots
Lakes Area Tea Party
Brighton Tea Party
Barry County Tea Party Patriots
Willow Run Tea Party Caucus
Mid Michigan Patriots
Tea Party of Ionia County
Manistee Area Tea Party
Americans in Motion (Sturgis)
Western Washtenaw
Tea Party Troy Area Tea Party
Patriots of SE Michigan
Blue Water Tea Party

###
Meet Conservative Republican and Grassroots Candidate for Lt. Governor Wes Nakagiri. Click on his picture or the link below to see why Republicans and Conservatives need to say YES to WES for Lt. Governor in 2014!!!
ReTakeOurGov Tea Party's Wes Nakagiri on a primary challenge to Lt. Governor, and Medicaid Expansion in Michigan
Watch Jul. 19, 2013 | #4304 on PBS. See more from Off the Record.
________________________________________________________________
TEA Party Poll on
Debt Ceiling
The 1st Michigan TEA Party Alliance has put into place a facility to allow us to poll our members on various items of interest from time to time and then publish the results. The various TEA Parties in the state are all very independent and made up of independently minded conservatives and so it was of interest to be able to sample their opinions from time to time.
It is noted that these are just 'straw polls' as the poll is broadcast via email lists of members to all members. People are free to answer the poll or not. Thus in all likelihood the people who have strong opinions will self select and respond. It is not a scientific sample poll.
Many of the TEA Party organizations around the state seek to work in partnership with their federal, state and local representatives. That requires methods of communication to these representatives that can convey an overall census of the TEA Party voters' opinions on important issues. Using polls is only one aspect of that set of communication channels.
The attached poll and results are the result of a desire to communicate the overall opinion of the TEA Party members in Michigan on whether to raise the federal Debt Limit, and if so, what safe guards would be required. We were looking for an overall consensus and the result of 88% opposed to raising the limit seems to be a solid consensus. If it were raised, 46% of those who had an opinion desired a balanced budget amendment to the Constitution. Note that the second question in the survey was not required and the number of votes is not the same as the survey total of 467.
Here is the pdf is the questionnaire; Here is the summary of responses. The attached excel file is the raw data that includes remarks for use by the representatives as insight into what the TEA Party members are thinking.
__________________________________________________________________________________
NEW EDUCATIONAL PAGE!
Patriot Parent Educational Toolbox
We have a new Patriot Parent Educational Toolbox page. Find out vital information about your local school district. Things like average salaries, student performance, union bargaining contracts and much more. Don't be misinformed! Get the facts for your district and tell others. It is up to us to keep our fellow citizens informed!
Is your group interested in joining in our efforts to bring back fiscal responsibility to our state and nation? Just click on our Membership page to see how to join!
_______________________________________

The 1st Michigan Tea Party Alliance listed groups are the following:
We The People of Gladwin County
Common Sense Patriots of Branch County Michigan
Tea Party Patriots of West Oakland County
SW Michigan Tea Party Patriots
Benzie County Patriots

Rattle With Us Tea Party
Lapeer County Tea Party Patriots
Port Huron Tea Party

Patriots of SE Michigan
We The People of Mid Michigan

Berrien County Tea Party
Western Tea Party Group of Vassar

Allegan Tea Party
South East Michigan 9/12 Project
Please click the links to find out more about these great organizations. More groups are coming on board and will be added to our site. Check back often.
Michigan Tea Party Alliance Web site Guiding Principle
We are tea parties from throughout the state of Michigan who believe we were given an awesome gift of a republic based on a set of inspired documents called the Declaration of Independence, the US Constitution and the Bill of Rights. In these document are three basic principles we espouse. They are:
· Limited government
· Fiscal responsibility
· Free markets
These values derive from our shared heritage and a belief in a free person who exercises personal responsibility.

A) Limited Government
1) Strengthen state sovereignty
2) Make local and state governments stronger and more independent from national government
3) Stop legislation which hinders personal liability: property rights, moral legislation, free speech, etc. and most legislation which removes personal choice from citizens who have unalienable rights
4) Reform tax code (with focus on lowering tax burden for all citizens)

B) Fiscal Responsibility
1) Reduce the size of all government departments and bureaucracies at every level
2) Reduce and limit grants and foreign aid
3) Common sense approach to balancing the budget, no new debt and eventually paying off the debt

C) Free Markets
1) Limit regulation of any sector of business or industry
2) Reform subsidies and taxation
3) Eliminate government ownership in any private company or industry